Click2Go Blinds - Easy no drill blinds for effortless installation
Our Click2Go Roman Blinds combine practicality and style in one. Effortless to install, our no drill Roman Blinds simply click into place and with a choice of beautiful colours, designs and soft fabrics, not to mention blackout and light filtering lining options, there's a style for every room.
Shop Click2Go Roman Blinds
Our Click2Go DuoLight and DuoShade Thermal Pleated Blinds are easy to install and will allow a soft glow of natural light into your home. With tool free headrail installation and a choice of contemporary colours, our No Drill Thermal Pleated Blinds are perfect for any space.
Shop Click2Go Thermal Pleated Blinds
Our Click2Go Venetian Blinds feature strong, robust aluminium slats that rotate, raise or lower to provide precise light control all year round. Paired alongside our innovative Click2Go mechanism within the headrail, experience effortless installation and have your Venetian Blinds up in moments.
Shop Click2Go Venetian Blinds
How does Click2Go work?
Our Click2Go range is a revolutionary way to install your blinds. With no need for drills, there's no fuss as this new tool-free system makes fitting your window coverings even easier. The clever tensioned rail fits inside the recess of your window so you can install your blind's headrail simply and without mess - just click into place and enjoy stylish shading in a flash.
Watch the Roman Blinds Click2Go Video here.
Watch the Pleated Blinds Click2Go Video here.
Step 1
Place the Click2Go rail inside the recess.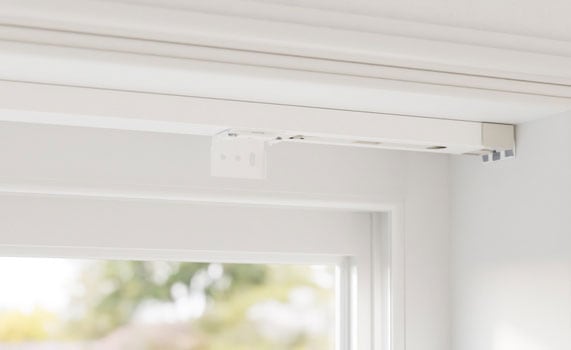 Step 2
Simply push the lever firmly upwards until the rail snaps into place.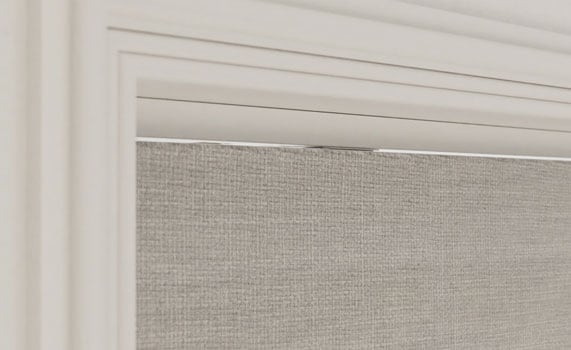 Step 3
Slot the blind's headrail into the pre-fitted brackets and your beautiful new blind is ready to enjoy.
Why choose Click2Go?
Click2Go is the perfect choice for rental properties and walls you don't want to leave a lot of marks on. Our Click to Go blinds are strong and durable too, meaning your window coverings won't move an inch, not forgetting the installation is almost entirely drill-free! Practical and stylish, our no drill blinds range features sumptuous plains, bold colours, playful patterns and gorgeous textures too, so there's something beautiful for every room and every style.
What type of Blinds can be upgraded with Click2Go?
There's plenty to choose from! Browse our elegant Click2Go Roman Blinds and choose between linen, velvet, blackout and so much more, or add a contemporary touch to your windows with our stunning Click2Go Venetian Blinds. Alternatively, peruse our innovative collection of Click2Go Thermal Pleated Blinds, with a choice of light filtering DuoLight Blinds and blackout DuoShade Blinds for window coverings that are not only effortless to install, but are also the perfect choice for keeping your home warm in winter and cool in summer. Our No Drill Blinds are stylish, practical and ideal for your home - shop our easy to install blinds now.